12 Feb 2019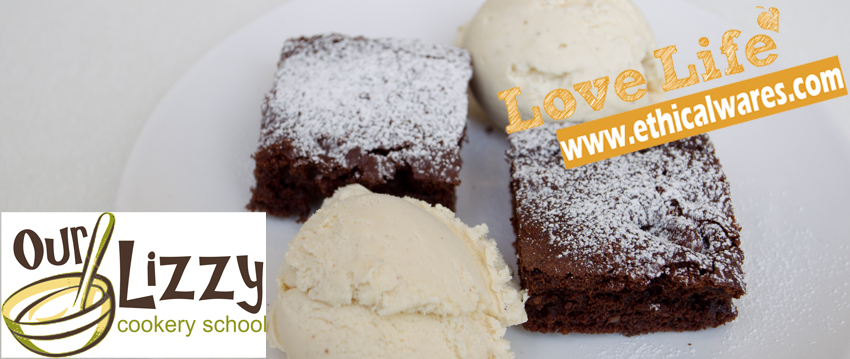 How about this delish vegan delight for someone special this Valentine's Day from the famous Our Lizzy Cookery School here

Our Lizzy's Chocolate Brownies
• 150g plain flour
• 50g cocoa powder
• 2 tsp baking powder
• 150g soft brown sugar
• ¾ cup soya milk
• ¼ cup sunflower oil
• ½ cup of water or cold strong black coffee
• 50g chopped walnuts/sultanas
• 100g chocolate chips

1 - Preheat oven to 180°C/Gas mark 4. Grease and line a brownie tin (20cm/8 inch square).
2 - Sift and mix the flour, cocoa, baking powder and sugar in a large bowl.
3 - Combine the liquid ingredients in another bowl or jug. Add the liquid mixture to the dry ingredients and mix thoroughly.
4 - Add some the walnuts or sultanas if using along with the chocolate chunks. Pour into the prepared cake tin.
5 - Bake for about 25 minutes. Take care not to over cook them, so, unlike cakes; you don't want a skewer to come out clean. The brownies should be springy on top, but slightly gooey in the middle.
6 - Allow to cool for at least 10 minutes. Cut into quarters, then cut each quarter into four squares. Dust with cocoa powder or icing sugar and serve.